BREW HOUSE
HONEY WHEAT ALE - COMIN SOON!

NIAGARA MIST LIMITED RELEASE
MELON BERRY MERLOT - AVAILABLE NOW!

EN PRIMUER WINERY SERIES
CHILEAN PINOT NOIR ROSÉ

NEW
ATMOSPHERE WINE KITS ARE HERE!

New World wines made in the classic Bordeaux style.

Introducing Cru Specialty Vanilla Fig!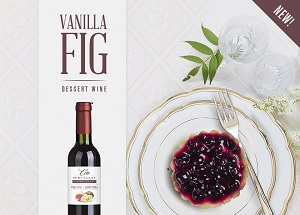 Dark berry and dried fruit aromas complemented by baking spices and vanilla bean. Very complex on the palate with dried fruit, vanilla flavours and spice notes coming through on the finish. It's like Christmas in a glass! Introducing our 2016 Cru Specialty Seasonal Release –Vanilla Fig Dessert Wine AVAILABLE SEPTEMBER 1st, 2016

Vibrant peach and tangy dried apricot aromas, with flavours of sweet, drip-down-your-chin-juicy plum & peach, accented with lightly tart apricot notes. Loaded with ripe fruit flavours, this rosé really refreshes when lightly chilled. Excellent enjoyed on its own, or a perfect pairing for barbecue.


RASPBERRY MOCHA DESSERT WINE (seasonal release)
This ruby red wine is a must for any dessert lover. Aromas of dark chocolate and coffee blended with ripe juicy raspberry jam draw you in. Sweet on the palate with numerous nuances of cocoa powder and coffee balances perfectly with hints of tangy acidity from the raspberry. The perfect wine to induldge in this holiday season

NEW! European Select Riesling
Gentle floral and fruity aromas are followed by sweet citrus flavours in this crisp, off-dry white.

CHARDONNAY - Lodi, California
Green apple, citrus, and tropical fruit aromas, lead into light citrus and peach flavours, with soft vanilla oak, and a creamy finish.
MYSTIC - California
Get excited for something truly unique. A captivating full-bodied red blend that offers rich flavours of black cherry, mocha, spice and vanilla, and closes with a velvety, smooth finish.
Mystic includes a crushed grape pack and sweet reserve.

WHO IS A FAN OF APOTHIC RED?
then this wine is for you!
The CELLAR CLASIC WINERY SERIES - Winemaker's Trio is the perfect blend of Cabernet Sauvignon, Syrah and Zinfandel fermented on GenuWine Winery Crushed Grape Skins. This new world style red has a nicely integrated balance of tannins and acidity. It features an inviting blend of vanilla, red berries, and black cherry on the nose and it combines the sweet flavours of ripe raspberry, chocolate, and cherry on the palate.
AVAILABLE NOW!